George Way Drum Company – What's Old is New
There is a special kind of mojo that is associated with that drum sound of the 50's and 60's.  The recipe of thin, resonant shells with fewer plies and reinforcement rings yield an unmistakable thud that is prominent in so many recordings from that era.  This sound that is sought after by so many modern-day drummers has created a higher demand in the Neo-Vintage drum market.  While many manufacturers have carved a niche in this market, few have done it with the authenticity and attention to detail as George Way Drum Company.
The relaunch of George Way Drum Company is a passion project of Ronn Dunnett, one of the finer drum craftsmen in our industry.  These classically styled instruments pay homage to another brilliant innovator in drum history – George Harrison Way.
George Way is a legendary figure in American drum manufacturing who worked with Leedy, Slingerland, and Leedy & Ludwig before starting his own drum company in the mid 1950's.  Among a huge list of notable accomplishments is the Turret-style lug that DW Drums has adopted and made famous.  George had a long and varied career in drums and left an indelible mark on the industry before his passing in 1969.
Over 60 years later Ronn Dunnett acquired trademarks for the brand and began making vintage-styled instruments with modern updates in honor of George Way.  We've carried Dunnett Classic Drums from day one at the Drum Center of Portsmouth, and we were very excited to get our hands on the George Way line upon their release.  Way Drums have been around for over a decade now and have established themselves firmly in the neo-vintage marketplace.
If you aren't familiar with George Way drums, you should get acquainted.  While they faithfully recreate a vintage sound, the rich tone of these thin shells can be applied to most modern-day genres of music.
George Way Drum Sets are a little bit different in that they don't have many custom options.  Ronn produces his kits in finite batches, so they are all essentially "limited releases".  Sometimes, component add-ons are available, but the drums are primarily traditional depths – 14" deep kick drums, 12" toms are 8 inches deep, etc.  Once these kits are gone, they're gone.  So get them while you can!
"Studio" Series drum sets feature classic 4-ply Maple shells with 4-ply Poplar reinforcement rings that sing with warm clarity in a wide range of tunings.  The "Tradition Series" kits vary in wood types.  Over the years, we have seen Cherry, Birch, and Mahogany, typically in a classic 4-ply shell with 4-ply reinforcement hoops configuration.  Currently, we have a handful of classy kits in Walnut with a handsome matte Cordia finish.  Tradition Walnut Series drums have a slightly dark, warm, round thud that fill the room with a thick, classic tone.  Once you get behind one of these limited kits, you may very well stop chasing that vintage sound in your head!
Way Drums feature Dunnett's "Reso-Tone" heads by Remo, reminiscent of older Ludwig heads that vintage buffs will truly appreciate.  Unlike the old Ludwig heads, however, the Reso-Tone heads have stronger collars and better QC.  And that's kind of the deal with George Way drums, in general.  You get a faithful homage to vintage design with a seamless integration of modern improvements.  The toms sport the classic George Way Streamline lugs, along with unique hi-profile triple flanged hoops, which we find particularly noteworthy.  All hardware is finished in a high quality, "AAA" chrome finish.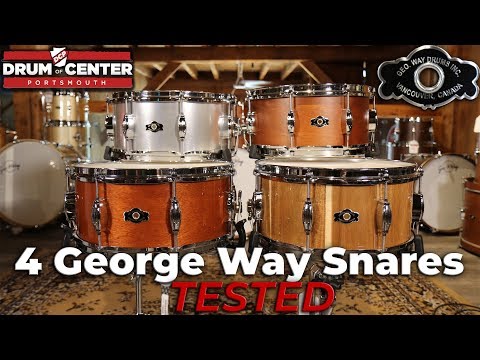 Here at Drum Center of Portsmouth, we specialize in high-end snare drums.  If there is one thing we are certain of, it's that Ronn knows how to make a great sounding snare drum.  We've seen a TON of Dunnett snares come and go through the years, and they are consistently outstanding.  George Way snare drums are no exception.   The metal snare drum line covers all the bases.  The ultra thin-shelled aluminum "Aero" is delightfully dry and crispy.  The "Indy" bronze projects bold, warm tone.  The "Elkhart" features a medium, polished copper shell with rich darkness, and "The Hollywood" rocks an extra heavy Chrome over Brass Shell that could easily be your main go-to for any gig.
George Way wood snare drums are equally varied in their composition.  The backbone of the wood snare line is the "Studio", featuring a 4-ply Maple / Poplar shell with 4-ply reinforcement rings.  The Studio model is available in many different finish types and is a house favorite here at DCP.  "Tradition" models feature similar 4 and 4 layup shells of Walnut, Acacia (he "Carter McLean" Signature model), Mahogany and more.  They even have solid-ply shells covered with the "Advanced" series snare drums.  Way snare drums feature Way Classic lugs, those awesome flanged hoops we mentioned earlier, and several different throw-off options.
The Verdict
Before you drop a ton of money on some sketchy Craigslist ad vintage drums, you owe it to yourself to give George Way drums a test drive.  Considering the quality of the build and the components of these instruments, they are VERY reasonably priced.  With so many options within the Way lineup, you are likely to find that vintage vibe that satisfies your ears.
At Drum Center of Portsmouth, we specialize in helping you achieve YOUR perfect drum sound. Give us a call at (603) 319-8109 to speak with a professional about that sound you hear in your head.  We are legit sound freaks and look forward to helping you navigate your way to the drums of your dreams.  We carry a huge selection of George Way Drum Company Drum Sets and George Way Snare Drums in stock.  If George Way isn't your thing, we can help with many other fine manufacturers as well.
Keep your eyes peeled to our YouTube Page for more exciting and slightly eccentric drum-related content!